EDO DIASPORA UK FOOD FESTIVAL
Celebrating our Edo Heritage in Manchester: Edo Diaspora UK Food Festival.
We will be holding weekly cooking sessions, which will be assessable via social media.
There will be three community cohesion events celebrating Edo heritage, cooking, and sharing traditional food and storytelling related to the dishes on display. This is educative because there will be a heritage-themed booklet produced and distributed to preserve the heritage.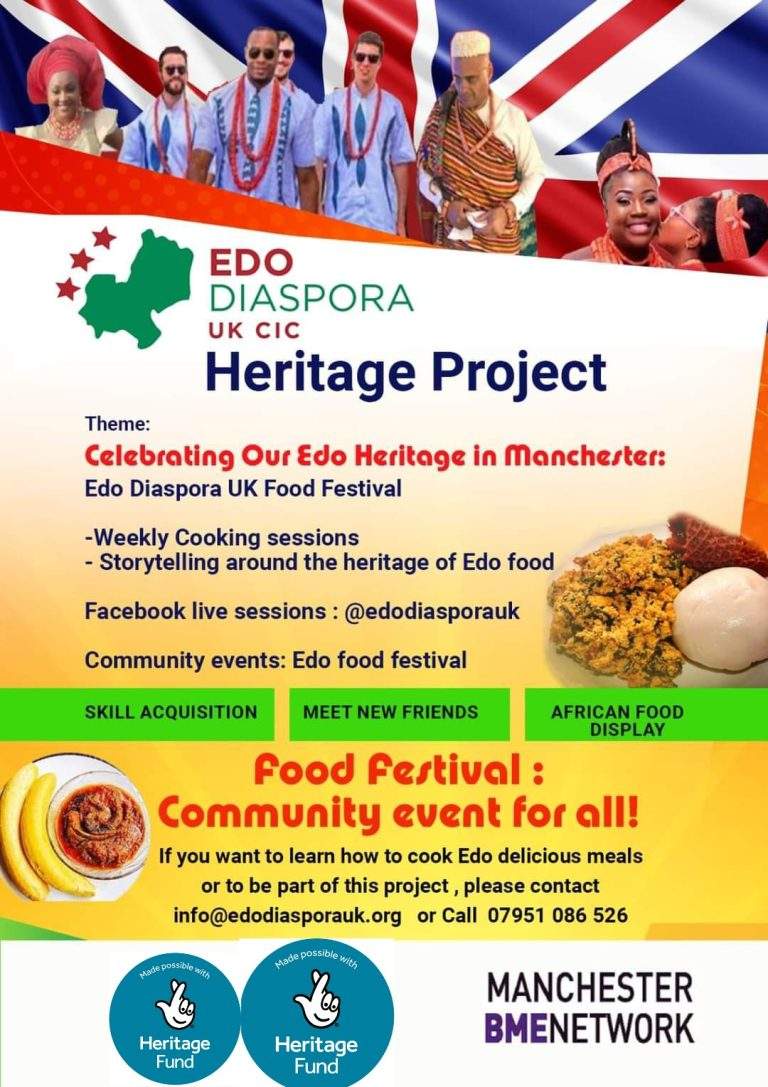 Edo Diaspora UK CIC has received a grant of £9,950 from the heritage lottery fund to do our first heritage project. This is a 6 months project, Celebrating our Edo Heritage in Manchester: Edo Diaspora UK Food Festival. We will have a weekly cooking session, during the session we will share the importance of Edo Cultural food and why it is important to keep our cultural heritage. The face to face sessions and online sessions will be opened to all, for the wider audience to learn about our heritage regardless of their ethnic background.
We will have three community cohesion events in celebrating our culture and diversity, Edo cultural food display show and dance.
Edo Diaspora UK CIC, provides support for African Men and their families across Greater Manchester
Musa Amedu, CEO of Edo Diaspora UK, said: I am pleased that the Heritage lottery fund allows us to explore and share our cultural heritage with a broader audience.
Weekly Sessions on Edo Food
The traditional cuisine of the Edo is representative of what is found in most southern states of Nigeria. Pounded yam, fufu or eba eaten with Ground nut soup, black soup, vegetables, Ogbono, melon/Egusi, okro soup and so on. Garden egg sauce can be eaten with rice, boiled or fried yam, plantain. These soups and stews can be made with beef, chicken, fish, or prawns.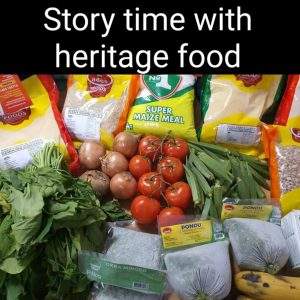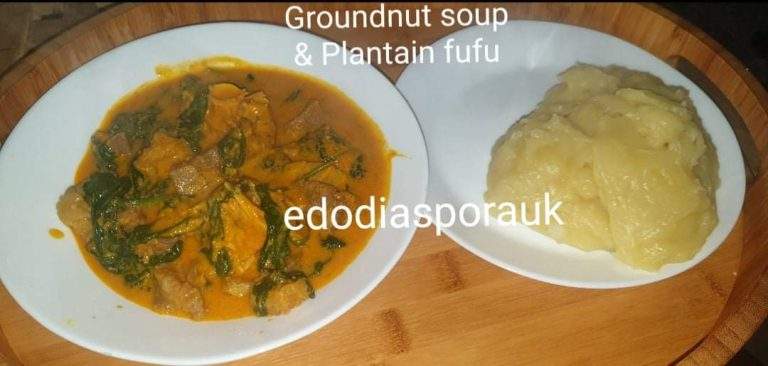 Groundnut Soup (Omisagwe)
Groundnut is one of the most popular soup among the Edo people. The soup is made from roasted groundnut. Groundnut soup happens to be one of the cheapest soups to prepare and also one of the most delicious.
This soup is eaten with a wide range of food like eba, fufu, pounded yam, cornmeal and white rice.
However during our session we decided to use Groundnut soup with plantain fufu. It's nice to see our children enjoying this delicious soup.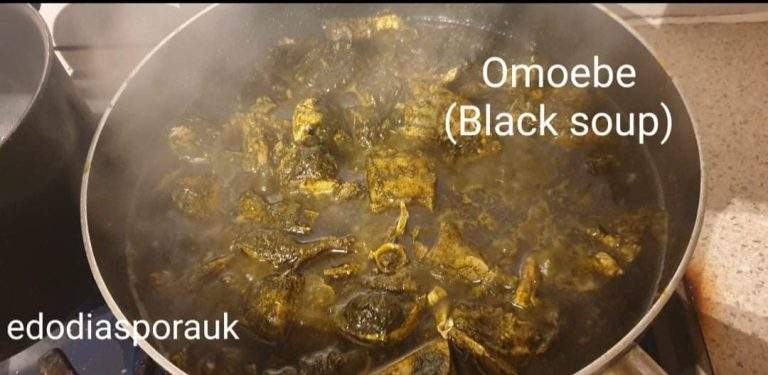 Black soup, often referred to as Omoebe, is lauded for its medicinal capabilities. Originating from Edo state, it earned its name because of the oxidisation of some of the vegetables, which causes the vegetables to darken, giving the soup its name. Traditionally, a stone is used to grind the vegetables to a smoother texture. However, if you do not have a grinding stone, you can use a food processor or a blender with a bit of water.
Many Edo people eat this soup regularly because of its health benefits. After a woman gives birth, the soup is served to help cleanse the stomach after birth. Other benefits of black soup are: improving fertility, and relieving pain. It helps when losing weight, prevents constipation, and treats cold/fever and sore throat.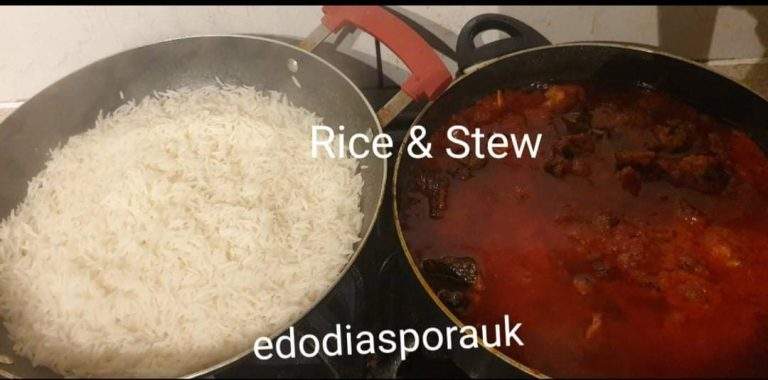 In Edo state Nigeria, there is hardly any household that doesn't eat white rice and stew at least once a week. This is because it is so delicious! Years ago, rice and stew was made every Sunday, many children looked forward to eating it. The rice is easy to cook, all you need to do is wash very well and boil, some people add salt others don't. The stew is made up of tomatoes, vegetable oil, fish, beef, fish stock, onions, bell pepper, crayfish and bouillion.
Aside from home cooking, rice and stew is served at traditional Edo weddings,  birthday parties, graduations, and naming ceremonies.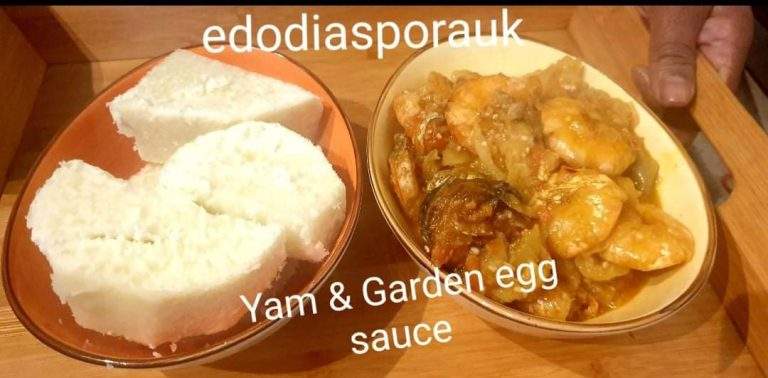 Garden Egg Sauce and Fried Yam

Garden egg is what the eggplant is natively called in Edo state and many parts of Nigeria. The sauce is made up of the garden egg/eggplant, tomatoes, pepper, onions, cray fish, dry prawns, and oil. This sauce is mostly eaten by Edo people during traditional ceremonies, it is popularly eaten with Boiled yam or plantain.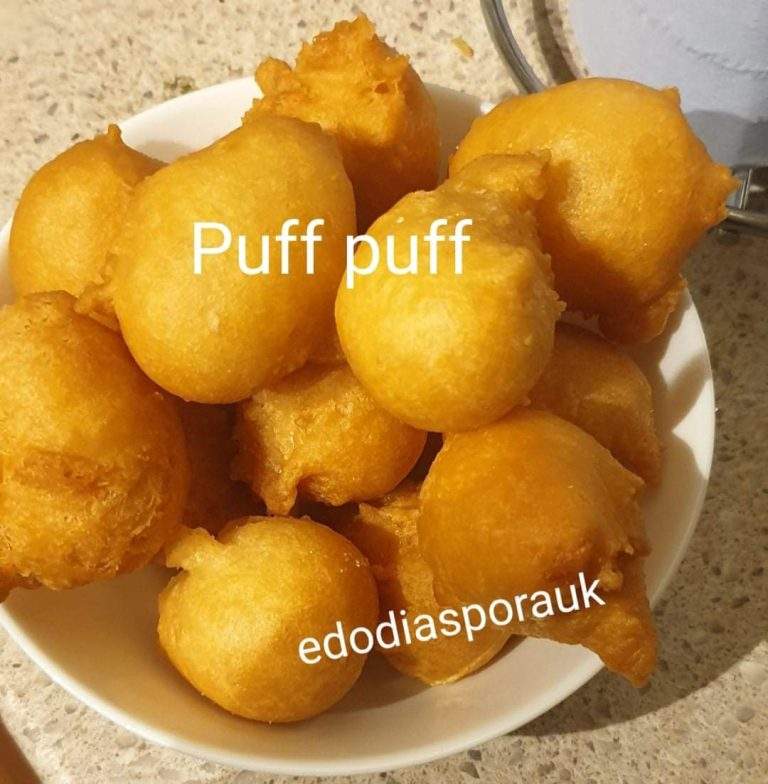 Puff Puff is a popular Nigerian snack. For this recipe, you will need Flour, Sugar, Salt, Nutmeg ,Water and Sunflower or Vegetable oil. The total cooking time is about 2hours 15 minutes, though now people use self-raising flour which takes less time. Nigerian puff puff is deep fried, similar to doughnut. It is soft, spongy, fluffy, easy to make and requires just a few ingredients.
It is usually eaten as a starter or snack, at home, at weddings, naming ceremonies and so on. At Edo parties, you can almost be sure that puff puff will be served as small chops (appetizer). In fact, we eat it at anytime, anywhere.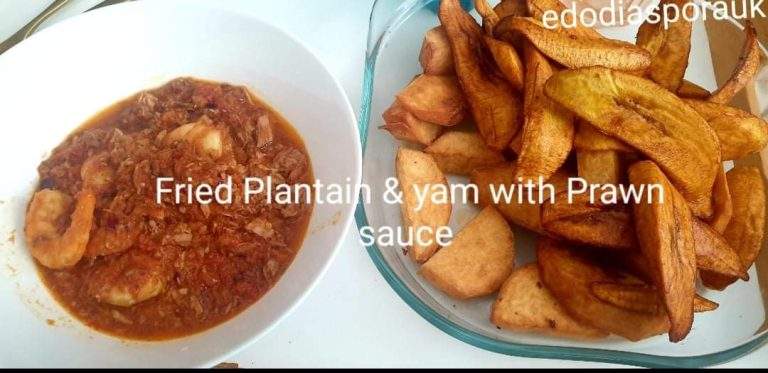 Fried Plantain & Yam with Prawn Sauce
Fried yam and fried plantain is a deep-fried dish which can be eaten with a wide range of Edo stews and sauces. This is a heathy meal for adults and children.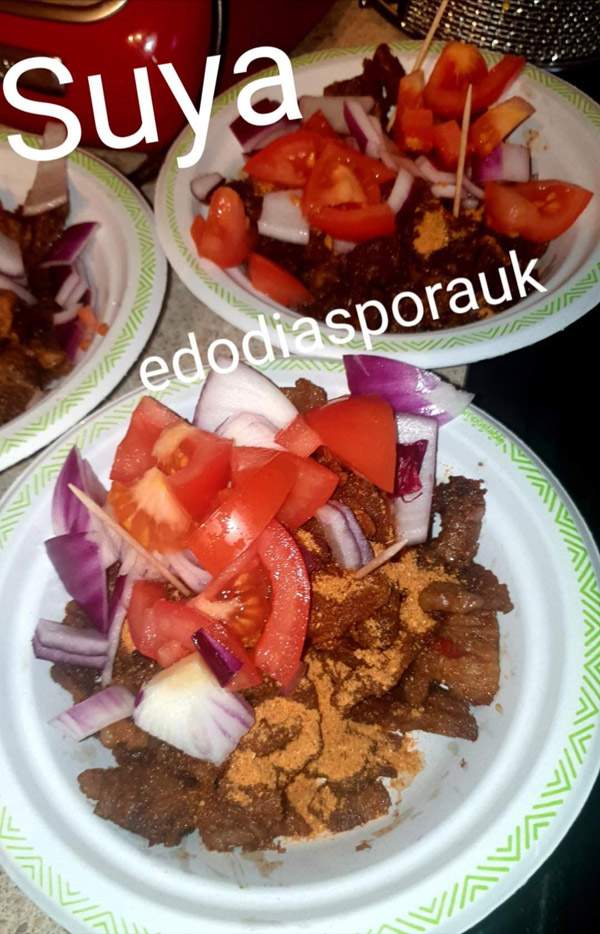 Suya is a popular meat snack in Nigeria. In Edo state, it is usually sold in the evening, and eaten when relaxing. It is made up of beef, which is roasted and eaten with fresh onions, tomatoes and the suya spice. Initially this was made only by men. We have learnt that both men and women can make it, and we do not have to be in Nigeria to eat it. We have found out how to make it using your oven in the comfort of your home. We have learnt the skill and it saves money making it at home.

For every party event done by Edo people in Manchester, one thing is sure; our traditional food. What makes our party or festival unique in the diaspora is that we are doing all we can to embrace our cultural heritage. We do not want our culture to die, so we are doing our best to promote it, and teach the younger ones so the heritage does not lose its value.